Airport says working to improve signage (con't)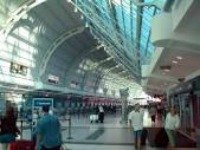 .Many complaints are directed at the poor signage and navigation of the relatively new airport which, to add to confusion, only has terminals named 1 and 3, no terminal 2.
"We're always getting complaints that people get lost in that airport," he said.
"And the reason they do of course is for lack of signage."
The complaints relate to major transfer points, accessing the shuttle between terminals, security, locating the Sheraton hotel (along the shuttle route), even finding the main exit and taxis, Cran said.
"I go through there 30 or 40 times a year…the signage has always been inferior."
The connection to get from Terminal 1 serving Windsor to Terminal 3 (mainly non-Air Canada flights) is abysmal, the consumer advocate said.
"That goes to the poor signage."
For example, there is an intersection to take an elevator to the shuttle level, which also connects to the Sheraton as well as the new Union-Pearson Express train.
"It took me a long time to learn that you have to go up to a different floor," he said.
"And that's the problem. A lot of people tell us they spent 20 minutes in the (adjoining) parking garage looking for where their train was, and you shouldn't have to do that."
Gates using a combination of letters and numbers can also be confusing, after one time using only numbers.
"I don't know why that was done," Cran said.
Even finding the main exit can be a chore.
We've got people saying they walked around for 20 minutes before they could figure out where to get a taxi or a limo," Cran said.
"There are signs up there but they're not clear enough to be immediately useful to a person who doesn't know the ropes."
He also can't figure out why a passenger arriving from a Canadian destination has to recheck their bags through security to go on to another country.
"You've got to go through immigration and all that stuff over again which seems to be a big fault in the design of that airport."
Halifax-based airline passenger advocate George Lukacs also said he has a "number of emails from passengers explaining how difficult it was to find where they were supposed to check in." 
But he said this may be the fault of airlines and code-sharing, where a different airline is substituted for the airline on the ticket.
The Greater Toronto Airports Authority (GTAA) says it is making changes.
Spokeswoman Siobhan Desroches said the airport is "constantly reviewing and updating our signage."
But she said a 2015 survey found "over 75% of passengers said they were able to find their departure gate with ease."
She said the airport is in year three of a strategic review of passenger navigation.
"In the first two years of the program, approximately 2,000 signs and more than 7500 sign blades (signs in direct line of sight) have been reviewed and modified for improvements."
Security is also being streamlined, Desroches said.
"In 2015 we added additional Automated Passport Control (APC) kiosks and added a new self-bag drop system in Terminal 3."
Improvements in Terminal 1 will also result in more automated passport control kiosks, additional security screening lanes, software upgrades to allow 95% of all passengers travelling to the US to use the APC kiosks, and 10 additional Global Entry kiosks.
WindsorOntarioNews.com