Pearson's baggage carts  a frequent airport irritant (con't)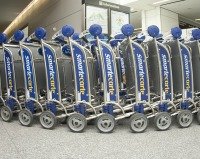 But unlike numerous other large international airports, they are nowhere to be found beyond security, apparently because airport officials believe most travellers don't need them.
"Many passengers check their luggage before going through security," Pearson spokeswoman Corrinne Madden said.
Pearson's management of baggage carts has long been an annoyance to the public.
That's because to use the carts you have to fork over $2, also a rarity among airports.
The Toronto Star in 2012 identified this as one of Pearson's "most irritating "traveller traps."
"You have to pay for a baggage trolley, perhaps the most uncivilized aspect of the whole experience," said one person in an airline consulting firm's online forum.
"If you are a foreign visitor, you will likely not have the correct change."
Comments on Trip Advisor also complained about the charge.
"Pearson is the only airport I've been to that charges for carts. It's embarrassing." 
As for no carts at all in secured areas that "varies from airport to airport," Madden said.
But there may be light at the end of the concourse.
Madden said Pearson will be introducing new carts later this year – before security – "and while there are no plans in place, we are exploring the possibility of introducing smaller carts post-security in the future."
WindsorOntarioNews.com