---
Toronto island airport access (con't)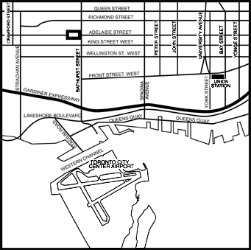 But travel doesn't seem too hard.
Porter runs a free shuttle bus to the Fairmont Royal York hotel across from Union Station on Front St.
From there, passengers can choose how to further get about the city, as they would if they got off the train at Union Station.
The ferry that runs from the island to the mainland docks at the foot of Bathurst Street at Eireann Quay, west of Union Station.
It can be reached by streetcar 511 from the Bathurst TTC station (about a 20 minute trip) and 509 from Union Station, which takes about 10 minutes.
The Porter bus also picks up passengers at Union Station.
The ferry, run by the Toronto Port Authority, operates every 15 minutes and passengers are dropped "right at the airport," says authority communications officer Irene Quarcoo.
The first ferry to the airport departs at 5:15 AM; the last ferry from the airport to the mainland is at 12:07 AM.
If you feel like walking - it takes about one minute from airport parking to the ferry - you can board the ferry at no charge.
Note that the ferry that serves the airport is different from other ferries which serve other nearby Toronto islands.
Nor can you walk between the island airport and the other islands.
Cars are allowed on the ferry at a charge but there is limited airport parking.
Quarcoo says the chances of the water between the island and mainland freezing over "isn't likely.
"In any case," she says, "our tug has the capacity to break up ice in places. "
WindsorOntarioNews.com