Metro Detroit Christmas wonderland (con't)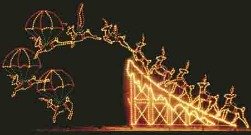 The event features giant rainbows, snowflakes, and candy canes. It opens at 7 pm and closes at 10.
The display begins at Hines Drive and Merriman Road in Westland and proceeds one way, exiting through Warren Avenue near Telegraph Rd. in Dearborn Heights.
Food concessions, photos with Santa (Nov. 25 – Dec. 23) and restrooms are at the end of the display at the Warrendale Picnic Area.
Meanwhile, all new for Christmas 2010, is a genuine German-style Winter Markt (spelled purposely that way) coming to Shain Park in downtown Birmingham.
Organizers of this traditional old world outdoor event hope to start a whole new seasonal tradition.
The Markt features holiday crafts and decorations, artisanal arts and crafts, home decor, and traditional European food and drinks.
Markt chair Birgit Strasser got the idea from the time-honoured Christmas markets in numerous cities throughout Germany.
There will be a Santa House, horse drawn carriages and ice sculptures.
It takes place one weekend only: 3 to 8 p.m. Dec. 3; 11 a.m. to 8 p.m. Dec. 4; and noon to 4 p.m. Dec. 5 on Bates Street in Birmingham.
WindsorOntarioNews.com