Upbeat, niche sightseeing tours explore Detroit history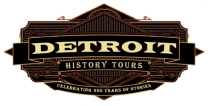 And Detroit History Tours is just gearing up for its busiest season – between October and March.

Owner Bailey Sisoy Isgro, whose day job is a designer at General Motors, oversees a group of tour specialists who conduct the tours year round Thursdays through Sundays.

A local history buff and author – she just published a book on Rosie the Riveter called Rosie, A Detroit Herstory – Isgro would travel to other cities and always took sightseeing tours.

"I was realizing that I loved doing that, but we didn't have a great option for people to do that in Detroit," she said.

"We had some tour companies but they generally operated days only and they were very limited in what they were offering."

But there was nothing that combined history, expertise and an upbeat, enjoyable atmosphere, including ducking into historic pubs for a brew.

"I realized that sharing Detroit history in a fun outgoing evening atmosphere was something we were missing in our cultural offerings," she said.

Part of the organization's goal is to "change the perception" of the city – so often negative – to one which shows off to a "city full of stores."

Tours also have a twist, concentrating on certain sometimes niche or undiscovered aspects of the city.

For example, there's the Wild Women of Detroit tour.

"From the very beginning Detroit has been a dame's town," the tour's website says.

"Home to broads, women, cats, ladies, and Rosies, the Motor City's story is interlaced with the triumphs, adventures, dalliances and deeds of its female inhabitants."

While Antoine de La Mothe Cadillac founded Detroit "it was his wife Marie who decided much of the town's original layout."

Or the Bizarre Detroit Bus Tour.

"We will explore a members' only club and grab a historic cocktail at one of Detroit's true gems. You'll learn about feuding brothers, werewolves, dive bars, cities inside of cities, and what's buried deep beneath Motown."

Tours can last an entire day for a bus excursion or just a couple of hours for a walking tour.

Individuals can join scheduled tours, with dates on the group's web site, or book a group tour, which make up most of the company's business.

Tours take place outside and in.

"We're off the bus as much as we're on the bus," Isgro said.

"And for the walking tours we pop in and out of places.

"The only time we don't get off the vehicle is our boat tours, our boat tours stay pretty firmly on the boat."

WindsorOntarioNews.com