---
---
Blue Water country offers cycling on both sides of border (con't)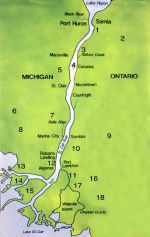 Harsen's Island is notable for its large number of summer residents as well as a potpourri of marshes, woods, and close-up views of Great Lakes freighters.
You can take the Middle Channel or South Channel routes for a total of a 35 mile round trip.
The island's fall colour tour is recommended.
Or you could continue to bike up the St. Clair River along the Saint Clair River Trail (parallel to Michigan's Bay to Bridge Trail to Port Huron).
It follows the river banks with half the 34 kilometres a designated trail, the remainder on the highway shoulder.
You pass through towns starting from the south such as Port Lambton, Sombra, Courtright, Mooretown, and Corunna, then a short ride into Sarnia.
There are several waterfront parks and restrooms along the trail.
"Some of it is on road, some of it is on off road multiuse trail" said Anita Trusler of the Lambton Cycling Advocacy Group.
You don't have to go all the way up to Sarnia; you could cross at Sombra and take the ferry to Algonac, Mi.
"Cyclists can just walk on to the ferry ($2 each way) and do the crossing," Trusler said.
Once on the other side, Marine City is charming community.
"It's a beautiful spot with little bars along the waterfront, cottages," she said.
Cyclists who want to cross the Blue Water Bridge at Sarnia will be out of luck.
The bridge is steep and the deck is designed with expansion joints that do not lead to a smooth bike ride.
"It isn't because they're not so bike-friendly they're more concerned about the risk of injuries and cyclists' tires getting caught in the ruts," Trusler said.
The bridge authority, however, will take reservations to carry long-distance cyclists' across the bridge in the authority's own vehicles.
But this isn't for day trippers - more for long distance travelers heading around the Great Lakes or across North America, and who should book ahead.
Meanwhile the annual Michigan-based Blue Water Ramble, starting in Algonac - held this past June - offered four different routes of 30, 45, 65 and 200 miles - two of them being international.
WindsorOntarioNews.com