"The Belt" transforms alley in downtown Detroit (con't)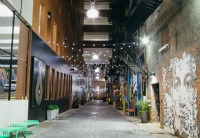 For Canadians, to get there, exit the tunnel and continue straight up Randolph St., veering left until you reach the intersection of Gratiot and Broadway.
The Belt is the brain child of a couple of rather dissimilar groups – the nearby Library Street Collective, a contemporary art gallery - and Bedrock Real Estate Services, owned by Dan Gilbert, the founder of Rock Ventures and Quicken Loans, and who has almost single-handedly been transforming downtown Detroit by buying numerous office buildings, reconditioning them, and bringing them back to life.
The Z Garage, however, was an entirely new concept, and the Library Street Collective was instrumental luring more than two dozen artists from around the world to have their work displayed in the new 10 storey building, lined by retail on the first floor.
It's often called a "drive-through art museum" because each floor has a different look, feel, color scheme.
The Belt grew out of that.
"That was kind of the next step," Library Street Collective owner Anthony Curis said.
"We sat down again and said, what can we do here that's different, and unique, and worked out a plan that basically really invested in the infrastructure of that space."
What they came up with an alley as part art gallery and part fanciful walkway, using the walls of buildings on either side as backdrops and canvasses to a large collection of art including permanent murals and sculptures.
As well there is a rotating art exhibit with large canvasses on big steel frames, recently featuring acclaimed poster artist Shepard Fairey.
Why the name?
'The Belt' was chosen because a belt typically cuts through the middle of a space, in this case the Z Garage, and the area was also once Detroit's garment district.
When you enter the alley you'll be walking on newly installed cobblestones along a reimagined block that mixes art and amenities like benches, tables, and seasonal planters.
"There is decorative lighting that kind of zig zags across the length of the alley," Curis says. "There's beautiful custom wood benches and landscaping and chairs and tables."
There are also several businesses, such as Standby, a cocktail bar you access through an elevator from an alley vestibule.
Curis called The Belt "very Detroit-centric in that it's very urban and it has these very unique qualities."
Future plans call for European food carts, an alley bar - The Skip, to open for Tigers opening day - and more special events such as food trucks and live music.
The Belt's creation can be a model to other urban environments, including Windsor, that is starting to play around with the concept of repurposing alleys.
WindsorOntarioNews.com