Unique Windsor streetlights (continued)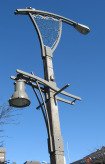 The streetlights, which are noticeable because of their arched lamp arms and grey metal and cement cross arm appearance, were first installed in the casino district and then along Park St. near the Windsor-Detroit Tunnel.
Their numbers have since been expanded to the civic plaza near city hall, the area around the Chrysler building and, most recently, along Ouellette Ave. as part of the city's recent streetscaping project, which included new pavement, sidewalks, pedestrian benches and trash receptacles.
"They were designed for the City of Windsor," said Eha Naylor, a principal with Envision, a Toronto-based environmental planning and site design company which has done considerable work in Windsor.
It's owned by Dillon Consulting, a long time consultant to the city on engineering issues.
"We prepared the design," she said.
Burlington–based StressCrete Group, which specializes in manufacture of outdoor light fixtures for streets and parking lots, fabricated the poles.
"The design was very much about being contemporary and kind of reflecting the character and image of Windsor," Naylor said, especially in the late-Nineties when "the image of Windsor.....was really changing."
That period was characterized by the casino which opened in 1998. The city also wanted to create a welcoming streetscape for tourists exiting the tunnel. The then DaimlerChrysler building was under construction and the civic plaza was being built.
She said the poles also had to be durable and practical. They are made out of spun concrete with lighting a combination of metal halide and high-pressure sodium, the first combination of these technologies in Canada.
"That actually was quite an unusual strategy."
Naylor said the lighting is designed to provide a bright white lit area along sidewalks as well as to prevent light from being directed upwards and creating light pollution.
More recently the lights have been "extended" onto Ouellette Ave. As a result "there's kind of a consistent strategy for lighting the downtown."
Naylor said studies have shown that "the better the quality of illumination the more likely people are to shop and use the streets in the evening and it just really improves the safety and a sense of safety."
StressCrete's Tyler Plumb says the poles have been manufactured for use in other cities, particularly in residential or parking areas, but not anywhere as extensively as for Windsor, even calling the design "our Windsor pole."
Plumb said the decorative arms can also carry festival or street banners and flower pots.
Jim Yanchula Windsor's manager of urban design and development, said the unique street lights are "not known to many" and the design "contributes something unique to our local identity."
Naylor said the combination of the two lighting technologies comes with a price.
"It's just a nicer pedestrian environment," she said. "But inevitably there are the costs of having to maintain illumination and the maintenance costs are considerable if you have a well-lit kind of street."
WindsorOntarioNews.com