Eco-friendly grocery bag thefts (con't)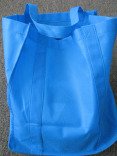 David Wilkes of the Canadian Council of Grocery Distributors, says the industry has not seen a "noticeable change in theft rates" because of the bags, which customers bring into stores and carry around while doing their shopping.
"I think that in all cases you are going to have particular incidents," he said. "But it is not something that is ... We haven't seen a noticeable difference for sure."
Grocery stores have been selling the reusable bags because plastic bags have been considered bad for the environment. Many stores now charge for a plastic bag.
"All groceries will have a variety of security measures to ensure that inappropriate activity doesn't happen in their stores," he said.
"We really don't discuss the specifics of those for obvious reasons."
Wilkes says there has been "significant acceptance" of reusable bags by customers.
There previously had been criticism that enviro-bags create health hazards.
And one report by the Canadian Plastics Industry Association found the bags "pose a public health risk" because of high counts of bacteria, yeast and mould from dirty reusable bags.
Sixty-four per cent of used reusable bags had some bacterial contamination, the study found.
New reusable bags and single-use plastic bags showed no evidence of bacteria, mould, yeast or total coliforms.
Toronto-based Sporometrics Inc., an environmental microbiology lab, evaluated the findings.
Company research director Richard Summerbell said the "main risk is food poisoning."
Wilkes was not perturbed.
"It's like anything else," he said. "You have to take care of it."
But, he said, in consultation with the Canadian Food Inspection Agency, "There are no health concerns that they have seen fit to advise on.
"We do advise people to wash them regularly and to clean them if there has been a spill in them."
WindsorOntarioNews.com