Culinary program could cater to pre-cooked take-out (con't)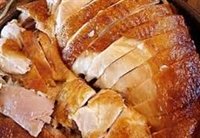 "We are doing over 700 and I probably turned down easily 300," owner Jeff White says. 
"We sell out every year."
The shop, which opened more than a decade ago, has been preparing the dinners from the start. 
White hasn't advertised but the seasonal business has spread through word of mouth.
He said the special occasion dinners – he also does them for events like Super Bowl, Valentine's Day and Thanksgiving (the store bills itself as a "catering meal replacement" business) – says the celebratory  meals "just sort of complemented" his day to day catering.
It started off small but "exploded" in his third year.
His "Traditional Christmas Buffet Menu" consists of fresh sliced turkey, glazed ham, stuffing, "smashed" potatoes with "hint of" yams, and maple glazed carrots, gravy and cranberry sauce.
The cost is $79.99 for four servings, $149.99 for eight and 12 for $215.99 plus HST.
Orders had to be placed by Dec. 19 and can be picked up Christmas Eve until 4 pm.
White thinks the popularity is because of convenience and value.
"I don't want to say that that's cheap," he said,
"But when you factor in the amount of work it takes to go purchase your own turkey, purchase your own (sides), prepare it all yourself, the time you spend in the kitchen, the dishes, the clean-up."
So with the pre-cooked meals customers "just pop it in the oven" and they can spend more time with family and guests than slaving over a hot oven and all the other meal prep.
White appears to be the only such business serving the local market.
Ted Farron, owner of Ted Farron's Gourmet Butcher Shop, said he believes the former Top Hat restaurant also used to provide a similar take out Christmas meal service.
By coincidence Farron had proposed the idea of catered meal preparation as part of the St. Clair College culinary program.
"I mentioned this to (college president) John Strasser a few months ago, it would be great for the students to do prepared turkeys for home owners" but Farron never heard back.
But after WON.com told Farron about the seemingly untapped market for pre-cooked take-out meals he spoke again to Strasser, who just happened to be coming into his shop that day.
With the news that this is a huge untapped market Strasser was won over.
"He was over here and loves the idea," Farron said, "Where he comes from, the town he comes from, they did that and people loved it. And it sounds like Windsor loves it too."
Meanwhile it's a trend that might be starting to catch on nation-wide.
Garth Whyte, president of the Canadian Restaurant and Food Services Association, said pre-cooked special occasion meal products are "starting to happen" and are taking different forms.
One business is preparing sides and providing a whole turkey with cooking instructions while others provide just the sides.
"More and more people are looking to take out as an option," he said.
"One of the fastest growing segments in our sector is the catering sector."
Whyte thinks more businesses will come on board when they see how much of an unfulfilled market there is.
"Our guys are so adaptable in trying to serve the needs of the customer and this might be another great way of doing it," he said.
Sarah Stover, a spokeswoman for Sobeys, said despite have deli catering sections her stores don't have large enough kitchens to prepare full course meals.
But, she said, the stores have "seasonal (house brand) products like hors d'oeuvres and last month co-branded with chef Jamie Oliver for 14 seasonal products.
WindsorOntarioNews.com