---
Could UW move all hockey to 'The Barn'?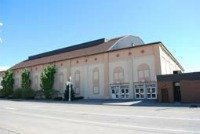 But the university's women's hockey is based at South Windsor Arena and its intramural programs are at Adie Knox Arena.
Jan Wilson, the city's recreation and culture director, said council gave direction to discuss the possibility of the university taking a greater role in operating The Barn, which the Windsor Spitfires left in December 2008 to play at the WFCU Centre.
The arena is still functioning as usual this season for community hockey and other programs.
Wilson said Council's directive was "left very open" as to the degree of future university involvement, including a "partnership" with the city.
She expects discussions will take place this fall and winter and a report will be brought back to council indicating the university's interest.
She said the directive came out of the city's plans for the new family aquatic centre downtown and is not related to other moves by the university into the downtown core to help rejuvenate the city centre.
These include moving music and visual arts to the former Windsor Armouries and moving social work to the existing Windsor Star building.
Wilson said the idea is to have the university or other groups help offset city costs as the city reconfigures a number of recreation facilities, including removing pools from Windsor Water World and Adie Knox.
"There's a recognition that there's going to be significant operating costs for the new (aquatic) facility and so one of the things that we're looking at is are there things that we can do to consolidate what we're doing now in other arenas or community centres – save some operating dollars," she said.
The aged Windsor Arena is fondly regarded in the hearts of Windsor hockey fans but had clearly outlived its function as a contemporary sports facility for the Ontario Hockey League (OHL) Windsor Spitfires.
Wilson said this year's operating arena budget is almost $240,000 after revenue.
Several years ago the city spent more than $1 million to install a new arena floor.
WindsorOntarioNews.com