"Convenience fees" coming down for online, phone purchases (con't)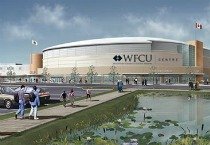 The official told city council this week "it was evident that the online sales transactions are lower due to the high convenience fees associated with such purchases."
Overwhelmingly, patrons purchase at the box office – and on game or event days - and not over the internet or by phone.
Over 2015-16, 174,360 Spitfires tickets were sold at the box office, including season tickets, while only 7,109 were sold online and 2,217 by phone.
The handling or "convenience" fee was $3.08 per online purchase and $4.18 for phone purchases.
Interestingly, for other events, almost as many tickets were purchased online as in person.
In 2015-16, 15,231 tickets were sold at the box office, 12,321 online and 1,733 by phone.
In those cases, the additional fee was $3.40 for online purchases and $4.44 for phone buys.
The contracted company handling the sales, Patron Solutions, agreed to reduce the online and phone charges, Mensour said.
The Spits tickets online fee will now be reduced to $1.85 and the phone fee to $4.
Other event fees will be reduced to $3.15 (online) and $4 (phone).
Most Spits tickets sell for less than $30 and most other events have price tags above that amount.
The quid pro quo is that the WFCU box office will have shorter hours.
Mensour said Patron Solutions requested the box office only be open on event days beginning 11 am until the end of first intermission.
Previously the box office was closed Mondays and Tuesdays, open Wednesdays through Saturdays from 11 am to 3 pm, and on event days (which could be any day of the week), 11 am to end of first intermission.
There are approximately 80 event days per year.
Mensour said the reduced hours shouldn't have a big effect.
"Most consumers usually buy tickets in person on the day of an event at which time the box office will continue to be open extended hours," he said.
Last year, for example, there were 16 average purchases on Monday, 22 on Tuesday and 20 on Wednesday.
Jan Wilson, the city's director for recreation and culture, said an agreement still has to be signed with the company before the reduced fees go into effect.
"We are trying to target for December" and the city would publicize it at that time, Wilson said.
WindsorOntarioNews.com