Police ask residents to be on lookout (con't)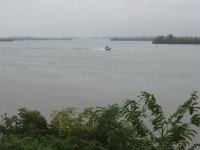 It advises residents to be suspicious of recreational boaters that may be hunting or fishing in unusual locations or where boaters are recovering or tossing items into the water or on the shore.
Or there may be repeated boat trips across the river to the United States.
It says suspicious activity on commercial boats could include fishing in an unusual spot, a boat anchored in an area not usually used for that purpose, seeing divers near a boat, the unusual transfer of people or goods, or unusual night activity.
There have been recent incidents along the Amherstburg shore involving humans illegally entering to Canada.
In August an Albanian man was arrested along the Detroit River.
And the previous summer five illegal aliens were arrested on the Lake Erie shore.
Local residents already seem to have their antennae out.
They were the ones who reported these incidents.
They identified them because the arrivals look suspicious – for example, in summer they were overdressed for the hot weather.
The Detroit River, narrow and easy to cross by boat, also has numerous canals, bays and inlets, making it easy to drop people or goods off.
The pamphlet says that this presents "a challenge for law enforcement."
The police appeal is also going out to boaters who can report suspicious activity "without getting involved."
Human trafficking by definition is the control of a person for their "exploitation" as a forced labourer, prostitute "or some other form of servitude."
Human smuggling involves the transport of a person across a border "usually in exchange for a sum of money and sometimes in dangerous conditions," the pamphlet says.
Tobacco smuggling "erodes respect for the law" and results in the "loss of millions in tax revenue used to fund social, education, employment and health care programs."
The pamphlet urges residents to report activity to either Amherstburg police or the National Security Information Network, part of the RCMP.
WindsorOntarioNews.com