---
Walker-Provincial entranceway (con't)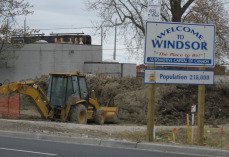 He said the road system there is one of the busiest in Windsor.
"The idea is to dress up each corner there, the four corners of the intersection," he said.
"And possibly have something that might say City of Windsor on it at each corner, or something to tie them together."
Clement said the elements "may be lit at night, just to create that real gateway into the city."
Meanwhile, some residual work also will be done this year on Dougall Ave. near E.C. Row, which saw the planting of trees and installation of artificial turf on rebuilt median strips.
There will also be built a low retaining wall with the name Dougall Ave. impressed into it.
The city will then move east to do landscaping at Howard and E.C. Row, and at Walker and E.C. Row.
At the Howard interchange there's not as much room for upgrades as at Dougall because the interchange is only half a cloverleaf on the expressway's south side.
Clement said there are no plans to beautify the entranceway leading from Hwy. 3 into Huron Church Rd. on the city's west side because of construction of the Essex-Windsor Parkway.
WindsorOntarioNews.com