---
Thousands help gov't pay down debt (con't)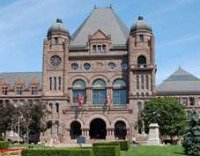 "You can help reduce Ontario's debt by completing this area," text in the box says.
Is that a great idea, or what?
Well, 29,754 people thought it was and have donated over the years to Queen's Park.
The Fund, set up by the Progressive Conservative government of Mike Harris in 1996, to date has raised just over $2 million from voluntary contributions, according to the finance ministry.
$2,043,235.54 to be exact.
In 2010, the most recent year for which the government has data, 2,033 people gave money for a total of $217,756.
Those who make donations can obtain a non-refundable tax credit for the tax year in which the contribution is made.
Monies paid into the fund in 2009 were $172,231, in 2008 $173,461 and in 2004 $198,995.
Don't have a refund or want to contribute more?
No problem.
You can make a cheque available to the Ontario Financing Authority and you will also get a receipt.
Details are on the ministry's web site.
Ontario is currently running a $15 billion deficit and the government is cutting programs and wants public servants to take a wage freeze.
The debt is $257 billion.
This past weekend unionists and others rallied at Queen's Park for the province to increases taxes on the wealthy.
And on Monday the NDP reached a deal with the governing Liberals for an additional two per cent tax on those making more than $500,000.
But what do those involved in the protest think of contributing voluntarily, instead of being forced to pay more, to help offset Ontario's red ink?
Warren (Smokey) Thomas, president of the Ontario Public Service Employees Union (OPSEU), said he had no problem with the idea.
"If people want to do it I say more power to them."
He joked that he didn't think he would get a refund on his income tax, but "It's up to people - if they want to do it, my hat's off to them."
Ontario Federation of Labour president Sid Ryan called the original Harris decision a "clever ploy" that doesn't really address the debt issue.
"I think people feel I get taxed at work, I get taxed on my paycheque, I pay taxes whether it's the HST, I pay health tax, I mean wherever you turn around there's a tax. So I don't really think that asking people to donate on a voluntary basis" is the way to go.
Ryan said if people have a "social conscience" and want to voluntarily pay more that's up to them.
"But why should the burden be falling to people on a charitable basis?"
"You need some fairness in the tax system and corporations and those who are wealthier through the proper tax systems should be paying more."
WindsorOntarioNews.com