UWindsor moving ahead on major new building (con't)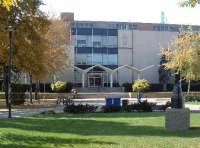 The prequalification process is a preliminary stage in bidding to determine if a contractor has the ability and background to complete a specific job.
Subject to senior government funding, the building would be a three-storey, 46,000 sq. ft. "state of the art, energy efficient" facility "which will be dedicated to research, innovation and industry collaboration," according to a university notice placed in Daily Commercial News, which serves the province's construction industry.
The project would also mark the "first phase" in the revitalization of the dated Essex Hall (above).
"The project is not a stand-alone building" but would be connected "by a link to the Essex Hall North Wing," the notice says.
It will also be "in close proximity" to a cluster of campus buildings such as the Dramatic Arts Centre, Computer Centre and Dillon Hall.
The facility will be constructed using LEED Standard for Environmental Sustainability, "as well as other innovative solutions."
The building would likely be a good candidate for the guidelines announced in the federal government's spring budget in which it announced $2 billion for exactly that type of university research centre.
Called the Federal Strategic Investment Fund this is "a time-limited initiative that will support up to 50 per cent of the eligible costs of infrastructure projects at post-secondary institutions and affiliated research and commercialization organizations," a commentary by Universities Canada said.
University of Windsor president Alan Wildeman, in a May 17 update to the campus community, referenced the fund "specifically for the purposes of developing research and innovation facilities and improving the environmental sustainability of buildings."
Wildeman said the university had applied "to develop a new research facility for the Faculty of Science that will house a number of researchers currently in Essex Hall."
The university was hoping to hear back from Ottawa in June on its funding request but "the federal government is yet to make any announcements," university spokesman John Coleman said today.
WindsorOntarioNews.com