County will still have access to speedy urgent care (con't)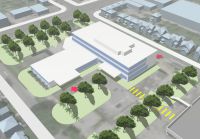 That access indeed could be critical for county resident living closer to the mega hospital than central Windsor or who might find it faster to drive to the mega hospital than the near downtown site.
"We're not going to expect people from Lakeshore…to drive all the way down to (the UCC) if it's an emergency or really urgent issue," Dave Cooke, co-chair of the new hospital planning process said.
While the UCC is designed to "divert" a significant number of patients from crowding emergency facilities at the new hospital, it doesn't preclude people from attending at the mega hospital site or at the county's other emergency department, Leamington District Memorial Hospital in the county's southeast, Cooke said.
"We're trying to make sure that there's access all over the place."
"There's Leamington emergency, there's going to be the new hospital emergency, and there's the urgent care facility that will be at (former Grace Hospital site)." 
But obviously hospital planners would like to see as many people as possible go to the four storey UCC, which will be specially equipped to attend emergency (non-life threatening and non-EMS; life threatening will be transferred to the mega hospital) patients, have diagnostics like a CT scanner and lab services, to treat and diagnose more patients on site.
Cooke said the purpose of the UCC is to treat the 85 per cent of people who now go to emergency rooms but are not admitted.
Most of those people are from the central Windsor urban area and not the county.
"You see that there is a significant number of visits to emergency for people in that core (area) and maybe an expanded definition of what the core is," Cooke said. "So that's why it's best to have it (located) there."
As for county residents, they can still choose the UCC if they wish, or any other emergency department.
But, Cooke suggested, many county residents will opt for the UCC anyway because of its expertise.
He said that's the case in Toronto with the Queensway urgent care facility.
"People are actually driving past hospital emergency rooms to go to the urgent care facility because they know they're going to get quicker service."
WindsorOntarioNews.com