Trucks run ambers, reds (con't)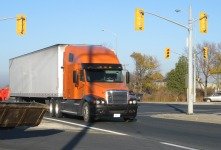 "The same thing that's been happening for years and it is very dangerous."
Thousands of trucks daily – often from the far corners of North America – drive along the infamous Huron Church-Talbot Rd. thoroughfare connecting the Ambassador Bridge and Hwy. 401.
It's the only corridor with traffic lights along a freeway system connecting long-distance trucks between Canada and the United States.
That, of course, has been only one of the reasons to build a new freeway to bypass Windsor's west side and get most large trucks out of the urban area.
Until that time, trucks running ambers and reds will likely be an all-too-frequent occurrence.
Yet, police say they spend considerable resources watching the strip, especially trucks.
"We do heavily monitor traffic," Staff Sgt. Steve Bodri, head of Windsor Police's traffic division, says.
And Bodri said the policing, which includes "strict enforcement" and "zero tolerance" in a "community safety zone" where fines are doubled, appears to be working.
While tickets are issued there haven't been major accidents involving trucks in recent years.
"We had the odd collision," he said. But "we haven't had any major or serious crashes on Huron Church in a long time...because of our extensive enforcement."
It might have something to do with the lower 60 kph speed limit from Girardot St. to the city limit at Todd Lane/Cabana Rd.
However, once trucks get on to provincial road Hwy. 3, the speed limit rises to 80 and there are fewer buildings on either side of the street, creating conditions for trucks to accelerate.
After trucks hit that section it's the OPP's responsibility.
OPP spokeswoman Const. Karen Gignac-Trudell says the Essex detachment actually has two police officers assigned to the area.
Running red lights "is one of the things they're looking for," she said.
She said police issue "several tickets during the week" but cautioned that the Highway Traffic Act allows vehicles – trucks and cars alike – to run amber lights if it's dangerous for them to stop.
She also said there have been "quite a few" accidents – of all kinds, not just involving trucks – in that zone.
Another intersection trucks can be seen running lights is in front of the Windsor Crossing outlet mall.
Gignac-Trudell said traffic signals are also delayed in an effort to prevent collisions.
For example, a light along Talbot Rd. will turn red but the light on the cross street will be delayed a few seconds before it turns green.
"It's a good tool to use," she said.
That's because it delays traffic "a little bit longer just in case that truck can't stop, because those trucks are heavy, you have to admit."
WindsorOntarioNews.com