Trucks blocking cars "frustrating," bridge says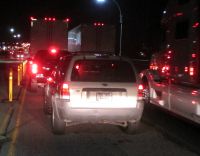 "It's causing us lots of issues," a bridge company representative who took a complaint said. "And we're trying to deal with those companies by calling their dispatchers and their safety managers and asking them to adhere to the proper rules of crossing."
At least twice this week trucks blocking the car lane created car backups lasting as long as 20 minutes, with motorists finally arriving at near empty Customs booths.
In both cases bridge employees who direct traffic were nowhere to be seen, as they often are to direct plaza traffic and move pylons to adjust bridge lanes based on traffic flow.
The specific delays were Monday between 7 and 8 am and Wednesday just prior to 10 pm.
The bridge representative couldn't explain why personnel weren't on the scene except they may have been redeployed for other issues. "Our staff is based on where customers require them."
Stan Korosec, Director of Security and Canadian Government Relations for the Ambassador Bridge, said car traffic "unfortunately" does sometimes get caught up in truck queues. 
"Because once you went by those trucks I'm sure you went to a car lane and it was pretty well empty."
Korosec said "the issue" is lack of resources by Canada Customs.
"Local CBSA (Canada Border Services Agency) management does the best they can with what they've got," he said. "It's what they've got that's the problem."
Korosec said there are 13 Customs booths to process trucks. 
"And they've never had all 13 open. Next time you cross count the red and the green lights when you're in a situation like that."
Korosec said he has written "a couple letters" to the Public Safety Minister Steven Blaney "to tell him about this issue and to give these people the resources they need to fix the situation."
Korosec said top government leaders have reiterated "this is Canada's most important border crossing. It's jobs dependent. Well if that's the case then why in the hell not put the resources down there to make it work."
He said the bridge company has a meeting scheduled with CBSA next week.
"We do the best we can. We don't want to hurt our car or commuter traffic but some days it's just chaos out there and it's out of our control," he said.
"It's very frustrating for us, people get upset at us, the border operators, the Ambassador Bridge, but it's not our fault."
But what about redeploying on site bridge traffic staff to force trucks back into their lane?
"We have traffic directors out there all the time...they may have been busy dealing with something else at that time."
An email from CBSA said the agency works "closely with our stakeholders including the (bridge company) to monitor traffic volumes and maintain our service levels."
It said there may be a "variety of factors" determining how many Customs booths are open "including facility and maintenance issues.
"Delays are sometimes unavoidable when traffic surges are encountered, enforcement actions occur, and higher than normal traffic volumes come into play."
WindsorOntarioNews.com