Trucker queue-jumping impeding border access (con't)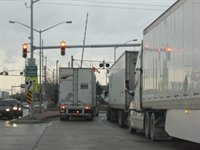 That has resulted in general back-ups along Huron Church because truckers who get as far as the bridge find they have to cut back into the centre truck lane, and sometimes other truckers don't want to let them in.
When several trucks get behind one another trying to do this it can create traffic jams and prevent regular motorists from accessing the bridge, sometimes taking extra minutes or as long as half an hour.
On one recent Tuesday afternoon this queue-jumping ritual went on for hours right through to mid-evening.
It's a situation acknowledged by police and others who follow border issues.
Brian Masse, NDP MP for Windsor West and the Official Opposition border critic, said while it might appear that trucks are mandated to stay in the centre lane it's more by custom and etiquette than anything else.
Masse's office checked with Windsor police and found that while "the signs say to go into the middle lane they (truckers) don't necessarily have to."
Masse's office has fielded calls from irate motorists complaining about the queue-jumping.
He suggested truckers are probably "pretty well aware" of the fact that using the centre lane is not mandatory.
"I don't have any personal knowledge of this but I'm willing to bet that the truckers all know that," he said.
Masse agreed the queue-jumping "does affect the flow of traffic."
He said he personally tries to avoid Huron Church Rd.
When driving his daughter to play hockey in LaSalle "I actually go all the way up to Totten and find that crossing at the light where the beer store is," he said.
Masse said getting the Herb Gray Parkway border route completed as quickly as possible "is so important because it's bad - the trucks are really up" in number because the economy has improved.
Bill Anderson, director of the University of Windsor's Cross-Border Institute, said the traffic issue probably "reflects the inherent problem of having just one lane for trucks to pass through the most important link in the largest bilateral trade flow on earth."
He said it also "reinforced the need to complete the second crossing."
Anderson called the situation "ironic. 
"While the increased traffic on Huron Church is an inconvenience for those of us travelling in cars, it is also a positive sign that the economy is picking up."
A representative of the Ontario Trucking Association did not return messages seeking comment.
WindsorOntarioNews.com