Transit's best and worst routes (con't)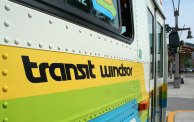 On the other hand the Transway and Crosstown routes have high fare box cash recovery.
The Transway 1A takes in 83.3 per cent of its costs from fares, the Transway 1C 73.7 per cent and the Crosstown 2 74.7 per cent.
Of the remaining routes the Dominion 5 does the best with 70.6 per cent.
All the others achieve less than 50 per cent.
The average for all routes is 56.7 per cent. That's down from 2008's 58.3.
Transit general manager Penny Williams says adjustments to the Lauzon 10 route in January were an attempt to boost ridership.
"We took it off Radcliffe and re-routed it a little bit," she said.
The South Windsor 7, introduced in 2005, has had growing pains.
The route connects the University of Windsor, St. Clair College by running through west Windsor and into LaSalle, and to Devonshire Mall.
Williams said transit officials have tried to bolster the route through advertising and, at least at one point, by offering free rides at specific times of the day.
"In the past we've also tried to work with the theatres," Williams said. "'Show your transit pass and get a discount,' and sending out flyers along the route, saying 'Here's where we go, give us a try.'"
TW closes down routes if the revenue to cost ratio is less than 20 per cent.
WindsoorOntarioNews.com