Transit's unique status makes it exempt from disabilities law (con't)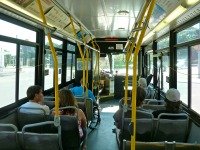 That border route redefines the entire transit system as being an international bus company, just like Greyhound Lines, and Transit Windsor falls under federal jurisdiction, not provincial.
It's that federal status that has become a sore point with local advocates for the blind and visually impaired community.
Peter Best, who sits on the Windsor Accessibility Advisory Committee and has been dealing with Transit Windsor over the issue for several years, says it's a poor excuse.
"Isn't it only right that people in this city, which is part of Ontario, would have the same rights and privileges as other people in Ontario?"
According to the Accessibility for Ontarians with Disabilities Act (AODA) transit systems throughout the province were supposed to have implemented back in 2011 verbal calls by bus drivers for stops along the routes.
Now they're expected to adopt electronic call outs by 2017.
But that legislation doesn't apply to Transit Windsor.
The federal government has no similar legislation, meaning Transit Windsor isn't mandated to provide such announcements.
Transit Windsor executive director Pat Delmore says the transit system's policy is to call out a stop when it has been requested beforehand by the passenger.
"Our policy is and has always been we will call out a stop based on a request from a rider," he said.
But Best says that isn't good enough.
While he applauds individual drivers for being "polite and courteous" he says the system isn't reliable. 
"We need to know when we get on that bus that we can get off where we think we're getting off at," he said.
"Because if we get off at the wrong spot it could be dangerous, it's disorienting, and it's really really frustrating."
Delmore says the agency is "absolutely not" using its federal jurisdiction as an excuse.
"It's not at all about hiding behind our federal status," he said.
Delmore said it's not a simple matter of cherry picking some federal policies and some provincial ones.
"If we say yes we're going to comply with the AODA (and) tomorrow the federal government implements something, now all of a sudden we've got to do two, and sometimes they contradict each other. So we stick with one. We come under federal jurisdiction, we follow the federal guidelines." 
But he did indicate a report is going to city council "very very soon" that will outline just such a planned electronic audio stop system.
"There's already money set aside in the capital budget for this project," the amount he couldn't specify because the report isn't finished yet.
"We've told them (visually impaired advocates) this and they hear what they want to hear," Delmore said.
"But they know that the technology's coming. And we know it's not coming fast enough. But it's not a simple plug-in-a-piece-of-software and it begins to announce all the stops. This is a 12 to 18 month process which we are undergoing right now."
Delmore made clear even when the system is operational, "We will not come out and say we're complying with the AODA.
"What we are saying is that call announcements is an important component to technology use and we will be moving forward with that."
WindsorOntarioNews.com
Photo of inside of Transit Windsor bus by trainsandboatsandplanesandtheoddbus blog