---
Detention centre's public access (con't)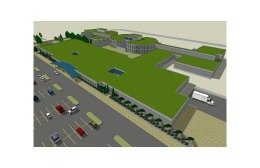 But they will be on jail property abutting the west side of 8th Concession, north of Highway 401.
Singh said the province, which is building the facility through its Ontario Realty Corp., decided on its "own initiative" and as a gesture of goodwill or "citizenship," to provide the community facilities.
She agreed it was analogous to a high school opening its gymnasium for use by the community.
Singh doesn't know if this is the first time there has been such "integration" of public use on a correctional facility site.
The soccer and cricket fields will be separated by berms and a large parking lot, available to the public, from the secured jail building.
Singh said the plan was presented earlier this year at a public meeting and there were no real objections to it.
This followed establishment of a community liaison committee.
"At this point, at the time of site plan, I didn't see any resistance from the community," she said.
This is in contrast to vociferous opposition – including a petition with hundreds of names - to rezoning the land in the East Pelton planning district two years ago.
The detention centre will have 315-beds for male and female inmates, and will replace the 80-year-old Windsor Jail.
Residents were upset by a jail going into a planned future area containing housing and commercial properties.
The jail will be located just east of the Legacy Park big box shopping district as well as Windsor Christian Fellowship church.
It will also be immediately north of Highway 401 and the Croatian Sport Club, which will also have a connection to the detention centre recreation area, according to a site plan report that goes to city council Monday.
The jail will be well-hidden from public rights of way, with berms, trees and landscaping blocking much of its view from the Highway 401 "civic entrance" to Windsor, as well as along the west and north sides of the jail property.
Fencing will be a "maximum height" of almost 18 ft. including an angled portion with barbed wire.
The entrance to the jail will be on its north side from 8th Concession.
A future entrance will be from a new East-West collector road that will run along the jail's southern boundary between it and Hwy. 401.
The maximum security jail's security fence will surround the inmate blocks.
There will be fences at shorter heights for an "evacuation" corridor as well as to keep the public away from the property.
WindsorOntarioNews.com