---
City council meetings to be live streamed, eventually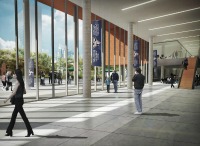 But it won't be until city council convenes in its brand-new council chambers in the new city hall building, which won't open until late spring.
"We do have a plan," city clerk Valerie Critchley said.
"We've recently instituted electronic agenda creation.
"So the first part of that was the paper piece which we've been working on and the software that we have will allow us to live stream as well."
But that won't happen immediately after the move into the new building – say, for the inaugural council meeting there. 
"No, once we move into the building, we have to get settled in there first, it won't be the first meeting," Critchley said.
"Obviously, it's a new building, it's a new room, it's new technology, so that is something that we will work on. 
"Once we get over to the new building that will be kind of the first thing to try and get implemented." 
The new council chamber physically is designed to provide more transparency, with a glass accordion wall opening to an atrium (picture) and viewing even from outside the building. (see WON.com Jan 24 2017)
Live streaming exists in many other cities but not so in Windsor.
That has long been an irritant to former city council candidate and well known immigration lawyer Gabe Maggio.
"I'll believe it when I see it," he said in response to Critchley's comments.
As far back as March 2014, he wrote in a blog post that live streaming should have "already" been implemented.
He quoted a local media report indicating a "phasing-in" over 2013-14 and "within the following year" meetings will be live streamed.
"Why do they need two years to implement this important step towards greater transparency?" Maggio wrote.
He said implementing streaming is "far from rocket science" and condemned the two-year implementation period, now (in 2017) three years old.
Maggio opined on the delay in his post.
"The reason is now obvious. Their intent of this service was to switch to a paperless model to save on the "voluminous agenda packages". Nothing else.  Council and administration were not seeking this service as a forward move towards greater transparency."
Maggio pointed to other cities that have streaming including Penticton, Winnipeg and Calgary.
And while Cogeco broadcasts meetings live there are no archives, a point Maggio also raised.
Maggio said live streaming and archives "are useful in not only keeping the electorate abreast of the issues for research and informational purposes, but for also keeping our elected leaders accountable."
Last week, Maggio reaffirmed his call for streaming.
"In an age where people have busy lifestyles, 24-hour access is essential to encouraging fluidity in all we do without unnecessary obstacles". 
But Critchley said the city has only been working on the electronic conversion for "probably about two years."
Asked if the city would also be providing council meeting streamed archives, Critchley said "what we would like to have to be able to archive it. 
"So our software does allow us, we think it will allow us to do that, so that is what we're going to try to implement."
WindsorOntarioNews.com