---
DRIC won't go through Ojibway (con't)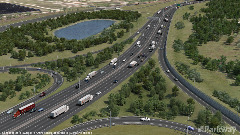 The Sierra Club on Aug. 18 stated that the Windsor-Essex Parkway, the name of the route, would cut "through a rare ecosystem" and would "affect the environmentally sensitive Ojibway Prairie complex."
(Artist rendering of DRIC Ojibway Parkway interchange at right)
But the Parkway will not go through the Ojibway complex at all.
This, the environmental group goes on to say, is "a habitat to a large number of rare plant and animal species, including threatened and endangered species" and it calls Ojibway an "ecological relic."
The news release also identifies several species at risk in the park.
It says the complex contains "Canada's largest remaining tall grass prairie ecosystem" that "provides habitat for the Massassauga Rattlesnake, Eastern Fox Snake, Butler's Garter Snake, Kentucky Coffee-Tree, the Willowleaf Aster and the Dense Blazing Star, all threatened or endangered species." The Club took the legal action because it says environmental approval allowing for the road comes from a "faulty" environmental assessment of the harm that could come to species at risk.
But an examination of the map of the new route shows the Parkway definitely does not cut through the complex, which is a term for five sites totalling almost 350-hectares defined as a provincial Area of Natural and Scientific Interest or ANSI.
The route map, by contrast, shows the road travelling immediately south and parallel of the E.C. Row Expressway with suburban neighbourhoods buffering the complex all the way until it crosses Ojibway Parkway to the designated new bridge and customs plaza site.
Even here the route travels north of Broadway Street with Black Oak Heritage Park – one of the complex's five sites – located south of Broadway.
Lesley Racicot, spokeswoman for Ontario's transportation ministry, said, "The Windsor-Essex Parkway, which received its provincial and federal environmental assessment approvals in 2009, avoids the Ojibway Prairie Complex."
The Sierra Club also takes DRIC to task for the danger to specific animal and plant species.
But under the permits granted to build the six-lane sunken expressway, which will have nature trails and substantial parkland covering major overhead stretches of the route, there are clearly-defined management plans for species under the Endangered Species Act, the same act cited by the Sierra Club. The plans have meticulous wording that would see animals and plants captured or transplanted and new habitats or "restoration sites" created.
This information is all on the Detroit River International Crossing web site.
But here Sierra also calls into question the efficacy of the plans.
"The permit that grants permission to the DRIC proponents to 'kill, harm, harass, capture, take, collect, possess and transport one endangered species and seven threatened species at risk, and to damage and destroy the habitat of' those species, which would otherwise be protected under the Endangered Species Act," (sic) it says.
The Sierra Club did not respond to requests for comment.
WindsorOntarioNews.com