---
Sarnia-Port Huron border improvements fast forward compared to Windsor-Detroit (con't)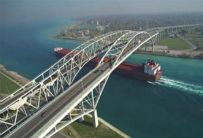 The $60 million project, funded by federal-provincial border infrastructure money, will be completed by late summer, Ministry of Transportation area engineer Brian Kope said.
"There were instances of trucks backing up that far."
Also unique is that there will be a dedicated lane for vehicles that have passes for expedited entry into the U.S.
These would be for motorists with NEXUS cards and truckers belonging to the FAST program.
"So it's exactly the configuration that the designations we have on the bridge are out on the highway," Blue Water Bridge Authority VP Operations Stan Korosec said.
Already the bridge had a designated lane for NEXUS and FAST pass holders, unlike the Ambassador Bridge.
A reason for that is because, with a new span built in the late 1990s, the Blue Water now has three lanes in each direction, allowing for an easy designated pass lane.
Motorists from the Windsor area waiting to cross at the Blue Water Bridge may be surprised by the large number of vehicle-owners using NEXUS cards, as they fly by backed-up traffic in other lanes with their lights flashing.
"We're probably the only bridge that has the infrastructure to allow this," Korosec said.
Now Hwy. 402, as far east as Murphy Rd., will have a similar lane.
Korosec said about 25 per cent of truck traffic at the bridge also use FAST (Free and Secure Trade) expedited system.
The bridge is the second busiest commercial crossing after the Ambassador Bridge.
Once the road work is completed six overhead variables electronic message boards will be built including the largest one in Ontario.
As well, the Christina St. bridge's rebuilding will offer a southbound ramp into downtown Sarnia whereas previously there was just northbound access into the Village Pt. Edward.
The 402 improvements take place while a $90 million upgrade continues on Interstates 94 and 69 on the U.S. side leading to the bridge, which will also be completed this year.
There also seems to be a high rate of NEXUS users in Sarnia–Port Huron - especially given the smaller population - which might be higher than in Windsor-Detroit. (Government border officials did not have a breakdown by region.)
"I can tell you that we promoted the heck out of NEXUS going back about five years now," Korosec said, noting the enrolment centre in Port Huron.
"When we started there were about 7000 registered users and now we're closing on 50,000 that are active participants in the program."
He said most are from the local area but extend as far as London, 100 km away.
He said the example of motorists waiting in line in a non-pass lane and seeing how easy it is for pass holder to cross has been influential.
"People just sitting on the bridge...and seeing those cars flying down the centre lane, has done more than anything to help promote the program," he said.
A NEXUS pass costs $50 and is good for five years.
But despite the bridge's relatively easy crossing there were still backups getting on to the bridge in Sarnia, therefore the road widening.
"That's the biggest complaint we hear," Korosec said.
"Yeah, it's great to have NEXUS or FAST but if you have to sit behind everybody else it doesn't really do you any good."
The bridge authority has also been pro-active about trying to avoid those back-ups.
It created a "NEXUS bypass lane" so when the highway is backed-up NEXUS users take a nearby road "and we have a gate and we put in the technology, you hold up the NEXUS card, and the gate opens up, and it takes you right to the toll booth," Korosec said.
"So you avoid all that back up out on the highway."
Photo: Blue Water Bridge Authority
WindsorOntarioNews.com