---
Sandwich Towne BIA highest levy (con't)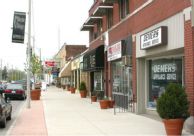 For example, a property assessed at $200,000 would pay $1811.
That's almost double the same business would pay in the BIA with the next highest levy, Erie Street East - $934.
Meanwhile, the levy in Pillette Village, on the far east side of the city, is the city's lowest at 0.00133117.
A business there with an assessed value of $200,000 would pay $266.
Meanwhile the Olde Riverside BIA actually had a decrease – the only BIA to have had one - to 0.00439663 in 2011 (the latest available statistics) from 0.00440880 in 2007.
The current fee paid there by someone with a $200,000 property is $879.
Of the city's nine BIAs only one – Ford City – has a flat rate of $200 and it has maintained that since 2007.
The others, from highest to lowest - with the amount paid on $200,000 assessment in brackets - are: Erie Street East BIA 0.00467168 ($934), Wyandotte Towne Centre BIA 0.00370731 ($741), Ottawa Street Village BIA 0.00360701 ($721), Downtown Windsor BIA 0.00245802 ($491), and Walkerville BIA 0.00214381 ($428).
Olde Sandwich Towne has also seen its rate increase substantially from 2007 when it was 0.00512917, or 56 per cent.
A business there in 2007 would have paid only $1025.
Business owner Mary-Ann Cuderman, who administers the Olde Sandwich Towne BIA, said her members back the levy "because we need that money down here."
She said the funds are used for "up keeping the streetscape, we have the Santa Claus Parade here, we have the (September) festival here, we do all our own flowers...and that's where all our money goes."
New infrastructure like new heritage street lamps, come from the city's capital fund, not the levy.
"There's never been any complaints," she said about the current levy or the increases over the years.
But that BIA's former manager, Bridget Scheuerman, said that the business support for the increases "really surprises me because ... when I was with them, oh my goodness, you couldn't raise a thing."
Scheuerman used to manage four BIAs but now runs just one, the Olde Riverside BIA.
She cut back on her workload for personal reasons but has kept managing the Olde Riverside BIA because she lives on the far east side of the city.
Scheuerman said BIAs are allowed to raise the levy but if it's over a certain amount – "I think it's more than five per cent" – a letter must be sent to property owners.
Scheuerman said that while rates may be higher in certain BIAs than others it means little if the BIA members support it.
She likened it to community spirit.
"Do you want to have your BIA looking good? Do you want events, do you want advertising, this and that, and the only way you're going to get that is if you have a half decent budget to do it."
Greg Plante, chair of the Pillette Village BIA, said that, "For our size of 43 businesses I doubt that there would be anyone who's much lower than us" in the entire province.
He attributed that low rate to business slowdown and vacancies during the recession, the fact the BIA has not splurged on more activities in recent times, and that BIA members chip in with their own labour and donations like liners for street planters.
"They chip in where they can and most of it is in professional services."
Plante said that levy could increase as the BIA rebrands itself and engages in more activities like the recent successful Cinco de Mayo event - "the streets were just jammed" – at the same time as the City of Windsor spends independently to upgrade the street.
But for now, "We're going to continue on with our grassroots approach."
Pictures: Front page: Olde Sandwich Towne; this page: Pillette Village
WindsorOntarioNews.com