Time to revive rose city image? (con't)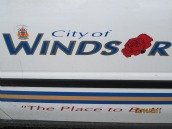 Johnstone said he recently heard a broadcaster say Windsor is "better known for its strip joints and casinos."
The now Fergus Ontario resident said it's "unfortunate that the rose theme has been neglected in recent years. It could still be useful and important."
At the very least, Johnstone said, "it should be a part of the City of Windsor website."
Johnstone wrote the mayor in January. He has still not received a reply.
Johnstone says the rose theme was proposed after the 1945 Ford strike which was "ugly and violent."
Among other things, "the strike fuelled Windsor's reputation of a blue collar town and a difficult place to do business," he said.
But there were "there were many other contributing issues feeding into the seemingly insurmountable problems."
In any case, a group of business and labour leaders came together to look for ways to change "the city's negative image."
A proposal was to call it the City of Roses because the climate and soil was ideal for growing the flower.
Johnstone's committee oversaw donations of roses for the new riverfront parks and the largest rose "test garden" in North America at Jackson Park with more than 500 varieties.
When contacted by WON.com the mayor's office said Mayor Eddie Francis "is away on a well deserved vacation" and unavailable for comment.
Four city councillors were also contacted but only one replied.
Councillor Percy Hatfield was ambivalent about the idea of reviving the rose image.
"Do these monikers serve a purpose?" he asked.
"We have London as the 'Forest City'. How many forests are there and what qualifies as a forest? Chatham as the 'Maple City' and are there as many maples there now as when the name was adopted - there must be since then the city became Chatham-Kent but does the name still carry the same meaning?"
Hatfield said any such theme should be unifying.
"Would our residents welcome a new signature or would they care?"
Hatfield said years ago former Mayor Bert Weeks promoted Windsor as the Magnolia Capital "but found few to agree."
Yet Windsor still uses the rose symbol as a logo on its municipal vehicles.
And the rose name is used on a variety of public and private businesses from a golf course to an optical shop and car dealership.
The city's Ambassadors of Tourism still hands out red rose lapel stickers.
But the city's parks head, Don Sadler, said Windsor is still very much the rose city.
"One need only to seek out the many rose beds to be found on private properties in Windsor & within our parks system."
Sadler said there is not anywhere near the variety of roses there once was in part because of modern pesticide bans.
"The City of Windsor, through council direction, developed our pesticide reduction policies that left us planting varieties of roses that were not as susceptible to disease and insect damage," he said.
But this "limited our choices to the point the gardens were no longer a showpiece but frankly 'boring' in appearance."
Instead, Sadler said, the city has "adopted" a Hybrid T Rose as the official 'City of Windsor Rose.'
This is "affectionately named the 'Nell Rose' after Mrs. Paul Martin Sr.
"It is a beautiful long stem variety that grows prolifically in the Windsor climate and produces an abundance of large red flowers all growing season long."
WindsorOntarioNews.com