Windsor could accept between 160-200 Syrian refugees (con't)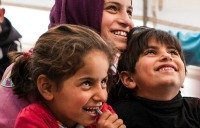 But Payne also said she's "heard as high as 2000 but I have no idea where that number came from."
Federal officials, however, have been clear that the 25,000 Syrian refugees will be going to 36 official "settlement communities" of which Windsor is one.
So if you do the math, based on simple division of both numbers, Windsor would get just under 700 people.
But more factors are likely taken into account, such as the per capita number of refugees versus overall community population.
"So then what they may say is of those 36...Toronto's much bigger and Vancouver's much bigger so they can absorb more based on their system," Payne said.
Factors like available housing will also come into play.
Military barracks have been discussed for temporary settlement. 
In Windsor there's a four per cent rental vacancy rate.
Upon arrival the refugees would be taken, for example, to motels and hotels and typically spend 10 to 15 days there during which the local multicultural council – the lead agency locally for settlement and which has the contract with the federal government – assesses their needs and helps integrate them into the community, including finding permanent homes and enrolling children in school.
Meanwhile the newcomers would receive one year of income support paid by the feds.
"Those funds then go towards rent, housing, food, transportation, clothing – just like anybody else who gets an income," Payne said.
Windsor, and not the county, is where the vast majority of refugees will settle.
Payne said already as many as 300 Syrians have arrived in the city – prior to the recent 25,000 federal announcement – and virtually all have settled in the city.
"What we've heard from them is that traditionally the families and individuals who come tend to settle in Windsor," she said. 
"I believe only one family has settled in the county.
"So the majority tend to settle in Windsor only because we've got the infrastructure and the services to support them." 
WindsorOntarioNews.com