---
Ranta Marina's restrictive sign (con't)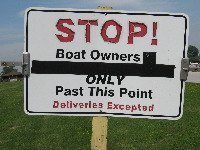 Last week a deal was completed by the town to sell the marina to private developers led by businessman Rob Delicata. For all intents and purposes that land is now in private hands.
But opponents of the deal have argued the town should not have sold a valuable public resource, especially since more than $3 million in senior government funds have been used to develop the site. The town sold the property for $584,000.
The town sold the marina because yearly operating expenses outweigh revenues.
Councillor Rosa White has called the boat owners, who have waged a very public campaign against the sale, a "self-interested group."
Councillor Robert Bailey said the marina is not the equivalent of a public park, calling it a "different tier" of recreation which doesn't "promote physical fitness."
The deal may still be a contentious issue in this fall's municipal election with one of the candidates for mayor, Rick Fryer, strongly opposed to it.
As for the marina being restricted only to boat owners, marina manager Carrie Kelch said the sign has "always been there. It's been there since the town owned the property. It's nothing new at all."
But, she laughed, people tend to ignore it.
"Everybody comes up to the office," she said. "Nobody really obeys that sign."
Asked if someone without a boat would be scrutinized if they drove past the sign, Kelch said, "No – no, no, no" but added, "Say, if you came in up to the office yesterday and you said, 'Oh, I'm just taking pictures,' I'd say, go ahead."
But, she added, "it's just that we're trying to keep an eye out (so that) there's nobody stealing anything, you know what I mean?"
She said if a non-boater came in and said, "Oh, I know so and so, is he here? Okay, it's nothing, it's not scrutinizing."
But when told that kind of restrictive sign doesn't exist at other public parks, Kelch said, "Right, I see where you're coming from."
Kelch said that for the time being she and several other staff are continuing to work at the marina under the new owners.
Last month the developers indicated they would continue offering marina services to the public, suggesting there could even be improvements.
Aaron Sauve, the lawyer representing the Ranta Marina Boaters Association, when told the sign could be viewed as restrictive, said, "I see what you mean but I don't have any information on that."
He added: "My position is that now that the sale has gone through I don't think that we should look back in time and say that sign should not have been there or whatever."
WindsorOntarioNews.com