---
Ranta Marina time share condos (con't)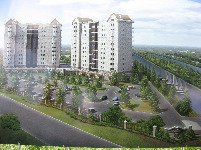 Instead, about half would be sold as time-shares to, say, retirees from across North America who want to spend half the year in Essex County and half in Florida.
Delicata and his team are planning a major condo development in the sunshine state.
They also just closed a deal for 1500 condo units in Muskoka's Port Severn.
He said that as efforts to market Windsor-Essex as a retirement destination heat up, selling time shares in Canada's southernmost region just makes sense.
"You've got Amherstburg talking about tourism, you've got Windsor talking about tourism, you've got everybody talking about tourism," he said. "If you want people to come you've got to give them something to come to."
Delicata recently closed the deal with the Town of Amherstburg for the sale of the marina for $548,000.
The sale was highly controversial, with the Ranta Marina Boaters Association leading a public campaign to try to prevent the sale.
The boaters along with some town councillors said the town should not have sold the property at such a low price when as much as $3 million from senior government had been spent on the site.
There is also an adjacent park, which the town did not sell.
Delicata, who owns Pilette Transfer Station in Windsor, said that before condo towers can be built a study must be completed on whether such large buildings can be constructed at the site.
The property has old brine wells underneath.
Delicata said that if the study shows the land cannot support the towers, he would simply opt for another use.
"We'll do something else," he said. "We'll do a restaurant or something that will bring people out here. Obviously a marina hasn't been successful here on its own. We need to do something to make it a destination point."
The site is about midway between Windsor and the old town of Amherstburg (though technically within the municipality of Amherstburg) in an area that is commercially undeveloped and alongside the Canard river.
Delicata said his 13 acres would be no problem to develop because sewers and others services "are only 200 metres down the road."
Meanwhile, boaters who feared they might be locked out of their cherished site will continue to be able to dock their boats and use the public boat launch.
Delicata said he has no plans to convert the majority of the boat wells to private use.
With empty-nesters and time shares "you're not going to have boats," he said.
He suggested less than 40 per cent of the wells could be for private use.
The marina had previously been underutilized.
As far as future boater rental rates are concerned he said "we don't know" but suggested they would rise if more amenities are provided.
Delicata is also tearing down and rebuilding a club house which boaters used for rest rooms and a small canteen to buy food and beverages.
The current building "is falling apart."
Should the owners go ahead with the condo project Delicata said the towers would be designed with an "historical look" using "Amherst stone" from a local quarry and a fencing design found in the old town of Amherstburg.
WindsorOntarioNews.com