Pkwy "early construction" rumours (con't)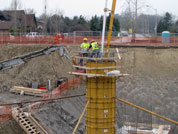 The rumours are that the construction is really not for the Parkway at all but to divert traffic around the Parkway construction itself once it begins later in 2011.
For example, traffic could easily be detoured from Howard Ave. to Hwy. 3 and 401, according to the rumours.
Even a senior construction official in Windsor thought this was true.
"Yeah, it will help facilitate the temporary detours and stuff while the other construction is going on, building some of the key bridges and stuff at the existing intersections," he said at the end of a recent news conference providing a Parkway update.
But the work has nothing to do with detours.
Garfield Dales, an official with the transportation ministry's Windsor Border Initiatives Implementation Group, said the bridges "will not be used to detour traffic."
Instead, he said, one bridge will carry traffic from Hwy. 3 over the Parkway and the other will provide a future off-ramp from Hwy. 401 westbound to Hwy. 3 and a realigned Howard Ave.
Sounds kind of like a detour, right?
But, no said Dales, "the bridges will become operational when the Windsor-Essex Parkway opens in 2014."
WindsorOntarioNews.com