---
Anti-corporate tax rate campaign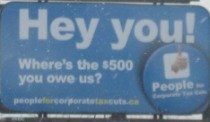 It has buttons with a thumbs up logo and videos of cheery Ontarians saying they will do their part to raise money to help corporations.
"Jimmy," for example, says he had to sell his hockey equipment to raise $500 after his parents were laid off because the company they worked for moved the jobs to Asia.
Said OPSEU spokeswoman Emily Visser, "It's our initiative."
Visser said the government is cutting taxes at a time when Ontarians can't afford it.
"They've been donating billions of dollars to profitable corporations in the form of tax cuts," she says.
Meanwhile, the government has been "telling people on social assistance to eat less food to pay for high salaries. And we believe that the bonuses and high salaries of big corporate executives just isn't right. So we're trying to stimulate public debate by drawing attention to what's happening."
Visser said the government instead should "be investing in the workers and salaries of the workers as a reflection of the respect for the work that they do."
Visser said while OPSEU represents public sector workers the campaign wants investment for all workers – private as well as public.
"We're talking about the poor are getting poorer and the rich and getting richer in this economy and the decisions that the government is making are simply upside down."
The province embarked on a plan to cut corporate taxes from 14 per cent in 2009 to 10 per cent by 2013.
The moves comes as Ottawa is also reducing taxes, with a combined federal-provincial rate of 25 per cent in 2014 from 33 per cent in 2009 - about equal to the average for OECD countries.
The Ontario rate will tie that of Alberta and British Columbia but still will be higher than New Brunswick's 8 per cent.
The aim is to make Ontario and the country more competitive, attract investment and create jobs, according to provincial and federal finance ministers.
Many western countries are also moving to reduce rates.
But Visser doesn't buy the argument.
"If the corporate tax cuts were going to create jobs they would have done so by now," she said.
"The fact is that at both the federal and provincial level we've seen corporate and income tax rates fall...but the rate of investment in jobs has actually gone down."
Visser said the campaign, which features a corporate-suited CEO in the name of Nuella Warkworth – who pleads for money – says that if citizens can't come up with the $500 the government will simply take it out of public services.
"It says you care about corporations," the Warkworth character gushes.
WindsorOntarioNews.com
---
---
---