---
All Pkwy property now acquired (con't)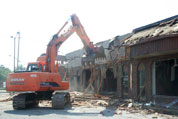 Full construction is expected to start this summer.
The property is needed for the below grade six-lane freeway plus two two-lane service roads.
There will also be more than 300 acres of green space both over and alongside the thoroughfare, which will be extensively tunnelled.
The ministry began sending letters to affected property owners in November 2008.
MTO real estate officers visited owners individually and provided market value assessments of each property and offers of compensation.
The government has also covered "reasonable" relocation costs for affected residents and businesses.
MTO began demolishing properties in July 2009 with work going to Jones Demolition Inc.
More than One third – 350 - of the properties had been acquired by November of 2009.
900 properties were needed altogether.
The government is working with management of the non-profit Trillium Court housing project near Cousineau Rd. to relocate residents.
"Design of the new community is currently underway by Archer Architects Incorporated in Windsor, with the start of construction anticipated for summer 2011," the ministry says.
Facca Construction Inc. won a $15.5 million contract for initial interchange construction work near Highways 401 and 3.
WindsorOntarioNews.com