---
---
New parking meters coming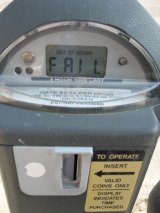 He said the new meters won't necessarily be replacing the oldest meters.
Instead they'll be installed in areas of high usage – "the busier areas basically."
Expect to see some new ones downtown and others in the university area.
The city has 1500 meters altogether.
Godin said the new meters won't be any different from current meters and will function the same way.
They're exactly (like) what's out there."
Godin wouldn't speculate on how many non-functioning meters there might be at any given time but suggested the number is low.
"I'd say we don't get a lot of complaints."
He says if anyone encounters a broken meter they should bring their complaint to city hall.
If the parking enforcement office finds the meter isn't working "then the ticket would be cancelled."
Godin said don't bother attaching a note to a broken meter saying you've paid and expect not to be ticketed.
"Everybody would put notes on meters if that was the case."
It's a $15 fine for leaving your car parked at an expired meter.
WindsorOntarioNews.com