---
Palace to make way for Windsor Star (con't)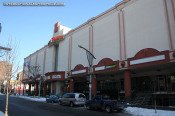 "Every time I go there it just breaks my heart because that was the place where I dated," Facca said.
Windsor-based Imagine Cinemas, which also owns the Lakeshore Cinemas and a six-theatre complex in Timmins, notified staff Wednesday that they would be losing their jobs.
There was one full time and seven or eight part time staff.
Facca said that ironically for the first time since 2008 the Palace was recently a venue for the Windsor International Film Festival earlier this month, an effort to try and reacquaint Windsorites to the downtown complex.
She said co-owners Chris Woodall and Greg Spencer, "thought it would be a great opportunity to remind people it's still there.
"I think a lot of people just forget, and we had upwards of 6000 people come through that Palace in a weekend, and I can't tell you how many positive comments and phone calls and emails we got from people saying, 'Wow, I hadn't been there in a number of years – it's beautiful, it's clean, it's a great place to watch a movie.'"
The current ownership took over the theatres as a tenant several years ago but the complex, even before its 1980s' renovation, had long been a mainstay at which to watch movies.
But Facca said the theatres took a major blow during the city's extensive streetscape work two years ago, which saw new sidewalks, benches and light poles installed.
She said the theatres had done "about 1800 people a week."
But "once the city of Windsor started with their streetscaping in front of the Palace, which basically closed down Ouellette Avenue - that project was supposed to be apparently a couple of months and it lasted well over a year - our numbers tanked from about 1800 a week to about 800 a week.
"They've never recovered, to be honest with you," she said.
"We did a profitable business up until that whole streetscaping fiasco happened.
"And then the foot traffic just wasn't there and it was too difficult to get to the Palace."
Facca said just prior to the announcement between the landlord, Mady Development Corp., and The Windsor Star, the theatre management had been considering joint projects with the University of Windsor whereby students could use the theatres to show films for fundraising.
She said this was also an effort to make students from outside Windsor familiar with the complex.
"The university kids were starting to come back," she said.
"We were offering some specials and some passes to come there for the first time, we just unfortunately ran out of time."
The Palace's lease is up in the new year.
WindsorOntarioNews.com