More parking spaces, transit hub, coming to Ouellette Ave.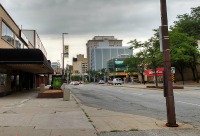 These are on the blocks between Wyandotte and Elliott streets.
There will be 16 new parking spaces altogether.
While some urbanists and downtown boosters might see more street parking as anathema to creating density and a lively business district – some people have called for Ouellette Ave. to be totally free of cars - City of Windsor urban planner Adam Coates said that the creation of parking spaces can have many positive results, especially on this section of Ouellette Avenue.
"Parking spaces do many things," he said.
One of these is slowing traffic on what can be a speedy thoroughfare, at least south of where current streetscaping, with "bump outs" north of Wyandotte, exists and effectively calm traffic.
This new section will match what has long existed north of Wyandotte.
"One of the things we hope they will do here is act as traffic calming," Coates said.
The spaces would also create more safety.
By having vehicles park between pedestrian sidewalks and motorists on the street it creates "a barrier" and therefore protects pedestrians, Coates said.
The $6.5 million project will do many things.
It will see the city's first Flex Space (see WON.com REAL ESTATE) where the wider than usual sidewalks south of Wyandotte will be streamlined and divided between leisure activities and pedestrian lanes, complete with decorative pavers, planters and trees, and street furniture.
There will also be four bus bays in a segregated area with two elongated bus shelters and demarcated on the pavement by a different coloured – likely red – lane.
"So it will be more like a transit hub from a major city than what's there currently," Coates said.
He said this is the city's busiest transfer area and there likely will also be an information kiosk installed as well.
The parking spaces themselves will be located "directly in front of the businesses" on the two blocks on Ouellette's east side and one block on the west side.
"This will be all short-term parking," Coates said.
WindsorOntarioNews.com