---
Image a major reason for city stance (con't)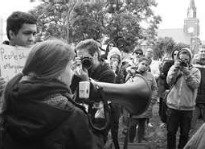 The mayor said he can understand the frustration of citizens who think there's a double standard by allowing the protesters to occupy public space without a permit.
That includes moving a portable washroom to the site and damaging the park's turf.
"I think most people in the community probably feel the same way," he said, including himself.
"I think I would agree...I feel the same way."
But, he said, the city must balance those concerns with the "potential violence" and general public safety should the protesters be forcibly removed.
"Council has a greater responsibility to ensure than we're not putting public safety," at risk.
Francis said police, fire and city parks officials are monitoring the situation daily.
The mayor said another reason for not moving in on the protesters is because a similar issue is before the courts in Toronto.
That's where Occupy Toronto protesters are challenging their previous removal for contravening a city bylaw.
He said the issue is whether bylaws "are enforceable in light of...freedom of speech" and the constitution.
The city's position echoes others across the country, which have taken no or little action.
Francis said he has not received any direction from municipal groups like the Federation of Canadian Municipalities (FCM) urging tolerance for the Occupy groups.
"We haven't even talked about it," he said.
Nor would the city, with colder weather coming on, remove the protesters for their own safety.
"They've chosen to camp out," he said.
"They've chosen to expose themselves to the elements...it's not for us to tell them what's safe."
What happens if the court rules against Occupy Toronto?
Francis said that decision would likely be appealed but would indicate the bylaws are in fact "enforceable."
And what happens should the Occupy Windsor group step up the protest and block public rights-of-way?
"From the beginning I've been very consistent," he said.
"So long as there is no issue with regards to the public security, the public health or the public's ability to access," the city will leave the protesters alone.
Otherwise the city's response "will change."
Photo: flickr
WindsorOntarioNews.com