---
Save up to 50% on Mardi Gras Hotel Deals to New Orleans. Low rate guarantee. Book now!
---
Roundabout to link to Parkway (con't)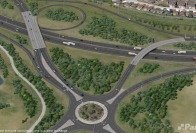 One is at Malden Rd. and Todd Lane, the other at Laurier Pkwy. and Mike Raymond Dr. by the town's Vollmer rec centre.
Some very small roundabouts exist in subdivisions elsewhere in the county, such as in Lakeshore, but not on LaSalle's scale.
As for the new roundabout, bridges have already been built to connect to it.
These are part of the initial construction of the Windsor-Essex Parkway.
Construction wrapped up last month except for some finishing concrete work, paving and landscaping.
One of the bridges is where Hwy. 3 will pass over the Parkway.
The other is a future off ramp from Hwy. 401 westbound to Hwy. 3.
Those bridges – and the roundabout itself – won't be open until the Parkway is completed, expected in 2014.
The roundabout will take Hwy. 3 traffic into it and provide a link to LaSalle.
At present the town's new Laurier Parkway dead ends at Howard Ave. but will eventually be linked so that vehicles can connect to the new roundabout.
The province contracted with Facca Construction Inc. to build the two Parkway bridges and nearby sound barrier at a cost of $15.5 million.
But the roundabout will be constructed by the Windsor Essex Mobility Group (WEMG), the consortium that will build the entire 11 kilometre Windsor-Essex Parkway, connecting Hwy. 401 to a new Detroit River bridge.
Meanwhile, Hayes said there have been no problems with the town's two new roundabouts.
"It certainly is a much easier way for people to manoeuvre without braking and stopping and causing environmental pollution, brake dust and exhaust," he said.
"Plus the fact we don't have to operate a traffic light system which is expensive to install and very expensive to continually maintain."
Roundabouts are also safer than traditional intersections.
"Whenever you keep cars moving they're safer," Hayes said.
"You have fewer accidents on 401 than you do on Tecumseh Rd. with all the stop (lights)."
Hayes acknowledged a few people were a little confused with the roundabouts at first but most seem to really like them.
"Maybe the older people were a little bit apprehensive because there's not a lot in the area that people use in general," he said.
"It's not a common thing like it is in Europe.
"But as people get used to them the comments coming back are, 'These are great, I can keep moving, I don't have to stop.'"
WindsorOntarioNews.com

Want to travel more and spend less? Try home exchange for your next vacation. 28,000+ Worldwide Listings.
---