Windsor Star historical murals can't find new home (con't)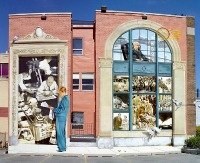 But the murals had to be removed after the University of Windsor purchased the building to convert to its new School of Social Work and Centre for Executive and Professional Education.
The murals – one larger than the other and located on the building's Ferry Street facade – depict two historic aspects of The Windsor Star in the community. 
The smaller one – measuring 34 feet tall by 16 feet wide – shows pictures of major historical events that became seminal news stories in the Star's archives. 
They include a crowd waiting for the outcome of a 1934 election, the 1946 tornado, a royal visit to the city in 1959, the 1980 Essex gas explosion, and launch of Chrysler's 1984 minivan, then a revolutionary vehicle and credited with helping turn Chrysler's fortunes around. 
The larger mural – measuring 36 ft. tall by 24 ft. wide – has images of the Windsor Star itself, from reporters, editors and photographers in the newsroom to the paper being loaded on to a delivery truck.
In that panel's foreground is Karen Hall, long time Star columnist and editorial writer, whom the city's manager of cultural affairs Cathy Masterson described as "resident humourist at the Windsor Star who has contributed her unique perspective to a number of departments."
The murals also includes "a connector piece that fits between the two murals and is approximately 8 feet wide," she said.
Masterson said the panels themselves "are not named…but are often referred to as Historic Panels (small one) and Karen Hall (large one)."
After the panels were taken down the city sought expressions of interest "to return these two artworks to the public domain," according to a city purchasing department document.
And so the city asked for "community partners" that would be "interested in hosting one or both of the murals on their private property."
Deadline for submissions was July 14.
But, said Elaine Castellan, city purchasing manager, "Unfortunately we received no responses."
In the meantime the murals are being stored at "no cost" to the city, Masterson said.
Stored in one of the city's park facilities they are "under cover and are in a protected area."
Masterson said it is the city's intent "to maintain the pieces and it is our hope to be able to have them re-installed on an appropriate surface in the future."
Photo by Gary Martin
WindsorOntarioNews.com