---
Municipalities to fork over for new emissions tests (con't)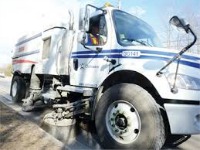 "These vehicles are currently required by the federal government to be manufactured with emissions controls and they must be maintained," provincial transportation ministry spokesman Bob Nichols said.
"The only new requirement is the test itself."
Nichols said the change will affect the street sweepers built on a truck chassis and that can operate at highway speeds.
But street sweepers that are three-wheeled and move at slower speed will keep the RBM status and won't be required to complete an emissions test.
Rumours that commercial lawn cutting equipment, used by municipalities and golf courses, would also be affected, are not true, Nichols said.
Dwayne Dawson, executive director of operations for Windsor's public works department, figures it will costs around $1500 a vehicle to undergo the tests and obtain licences for its four street cleaners and two vacuum trucks, which are used to suck material from sewers and clean out holes at construction sites.
The trucks will also have to get licence plates.
They don't require plates now but are identified by a visual number scheme.
"I don't know exactly but you're probably looking in the neighborhood of $1500 apiece by the time they go through the inspections and the emissions tests" and buy the licences, Dawson said.
But "the bigger costs" is the switch to regular fuel. 
Up to now, as designated construction equipment, the trucks can be fuelled with so-called coloured fuel (coloured by red dye) upon which no Ontario fuel tax is paid.
Coloured fuel is also used by private contractors who operate off-road construction equipment.
Under the new regulations heavy duty vehicles (HDVs) require an annual emissions test at vehicle registration renewal starting when a vehicle is seven years old.
In cases of ownership transfer, all HDVs older than the current calendar year are now subject to an emissions test.
The emissions test for heavy duty diesel vehicles is the Diesel Smoke Opacity Test. 
Non-diesel heavy duty vehicles receive a Two Speed Idle Test.
WindsorOntarioNews.com