---
St. Clair College MediaPlex could become emergency info and training hub (con't)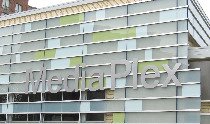 Berthiaume said Mandel approached him and officials from the fire department and City of Windsor "to see if there was a role that the media centre and the communications program at St. Clair College could play in emergency management across the region."
The college has described the MediaPlex, which will be the new training ground for journalism students, as having state of the art broadcasting and news gathering facilities.
Berthiaume said the centre could do, "everything from training of municipal or agency spokespersons to having facilities available or facilities that could be set up to assist in production of media products or responding to public inquiries."
He suggested St. Clair could actually become a "centre of excellence" for this kind of training and emergency information gathering and dissemination.
Berthiaume said there are various people who might benefit from introductory or refresher media training, from "individual responders" to senior managers of local municipalities who might be called to an emergency scene and spontaneously becoming the point persons for media contact and interviews.
He said at present it can be a "hit and miss affair of who's available to work and pass the information."
Berthiaume said "the question remains, have they been trained, do they have any experience and do they have, what I would say, some inert skills, in dealing with the public and the media, and that's not something that everybody might have."
The official also said "a lot of it is a catch as catch can as we work an emergency event. We work very well in coordinating the resources but there's always something more that we can do in getting the information out to the public and receiving information from the public."
Berthiaume emphasized the talks were in the "conceptual stage" and the matter initially was raised about a year ago.
For her part, St. Clair's Mandel said the college is "in discussions with the emergency planners in Windsor and Essex County."
She said that, "given our communications abilities, especially because of our exciting partnership with WEDnet, we see many possible partnerships – particularly with the emergency planners - as the MediaPlex continues to evolve."
WEDNet or the Windsor-Essex Development Network is a high speed public-private communications network using various media to disseminate information locally.
WindsorOntarioNews.com