Tourist ads target locals (con't)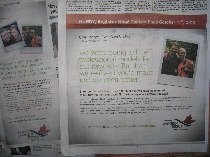 If this seems contradictory for an agency charged with attracting tourists from beyond Windsor-Essex to our urban and rural attractions it's really not, say officials with Tourism Windsor Essex Pelee Island, the new agency mandated to take a fresh approach to selling area tourism.
The agency replaced the former convention and visitors' bureau with a clean slate of staff and is designed to be both more encompassing in its approach to tourism and accountable to both the city and Essex County.
Previously there were complaints the county wasn't promoted effectively but with more funding from rural municipalities and a revamped governing structure that is expected to change.
Chris Ryan, former owner of Patrick O. Ryan's pub in downtown Windsor, was appointed executive director last year.
The tourist bureau wouldn't release a dollar figure on how much is being spent on the campaign nor how many ads have been placed in local print media.
Ryan said he didn't "understand the relevance" of disclosing that information "as it is all a part of an overall marketing strategy."
He also said, "All the above expenses are within the marketing budget that has been established for our first year of operations."
Ryan said the "rationale" of a tourist ad campaign directed at a local audience, "is that the number one reason that people visit the region is friends and family."
He said part of marketing is "to educate the residents of our region of the assets and 'things to do' in our own back yard.
"It is also meant to spur interest in discovering some of these assets that we were not aware of or had forgotten about."
The One Region Countless Stories campaign invites local people to enter the "What's Your Story?" contest.
People are invited to contact the agency and describe what attractions they love in Windsor-Essex.
This could be birding at Pt. Pelee, or touring and sipping wines at a local winery.
If the agency selects someone's story it will be featured in a larger advertising campaign with the winner getting an "all-inclusive regional getaway" travel package.
Tourism Windsor Essex Pelee Island board chair Shelley Sechopoulos described the campaign's purpose as generating "education and awareness" in local people about the region's attractions.
As for cost she said "not a lot of the budget is being spent," describing it as a "small percentage."
She said the campaign was launched after focus groups told the agency "there are many people that are in our own industry that don't even understand the tourism products that we have, therefore they can't promote, resell or refer any other tourism that comes into this market."
Sechopoulos is director of resort and hotel sales for Caesars Windsor.
County board rep Robert Bailey, Amherstburg's deputy mayor, called the ad campaign a "branding exercise" and said he was "really taken with the originality" of it.
Tecumseh Mayor Gary McNamara, who doesn't sit on the board and was a critic of the former tourist bureau, agreed that "we've got to let people know in the region who we are" but wanted to make sure funds were being spent in the right places.
He said "a lot of those ads...are very costly and those need to be in the London, the Ottawas, the Washingtons and so forth more so than I think locally."
McNamara added, "We're the convinced here."
McNamara, a member of county council, said he didn't "have in hand" where "strategically" money was being spent but hoped to get that.
"I think that's critical to make sure that we are maximizing or getting the bang for our dollar, and the fear that I have is that we haven't received a lot of that information upfront."
WindsorOntarioNews.com