---
Amherstburg's unique kiosks (con't)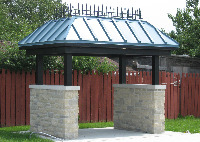 "They're certainly not bus shelters," he laughed.
"Rumours fly."
What they are, are shelters that will serve a number of purposes.
There are 11 of them altogether.
They cost a total of $197,000.
They're made of stone with a steel roof and have little iron fences on the top.
Zarlenga said four of them are larger with backing.
These will house interactive computers with historical information related to Amherstburg's role in the War of 1812.
The town is planning for the bicentennial of the war with major activities taking place in a couple of years time.
Zarlenga said town IT staff and the computer suppliers are "working feverishly" with a company to install the units.
The other, more open, kiosks, are for shelter and rest along the town's new pathway system, part of its major heritage streetscaping project over the past year.
"There's supposed to be some benches close by if not right in the kiosk," he said.
The fences topping the roofs were "proposed by the War of 1812 committee" as a reference to historical architecture.
They won't be used to contain plants or flowers.
Zarlenga said the kiosks are "one of a kind" and designed for the town by London landscape architect Ron Koudys and Windsor's R.C. Spencer Associates Inc.
Meanwhile only about one-third of some 30 "very gracious" black iron park benches have been installed along the new pathways, he said.
WindsorOntarioNews.com