IMAX coming to Silver City (con't)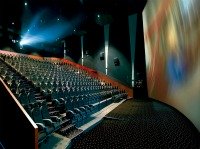 Another reason Windsor was chosen is because the community "has been very good to us" with "very strong" movie attendance over the years.
Moffatt said one of the theatres at Silver City will be converted, starting next week, to make way for a larger screen, better sound system, and new seating.
Part of the draw of IMAX screens is that they are large enough to capture peripheral vision.
There will actually be fewer seats "so you can have optimal viewing angles," he said.
There will be 420 seats compared to 445.
The theatre will also have a new projector with 3D capability.
Tickets will cost $6 more than regular prices.
Ann Sommerlath with New York-based IMAX Corp. said her company is moving increasingly into small to midsize markets.
"There's quite an opportunity there."
She said digital technology has made it much easier to screen IMAX films at a wider variety of locations.
Where at one time film projection units would be "literally the size of a Volkswagen Beetle" there are now shipped as a hard drive.
She also said IMAX has been branching into films targeting an 18-24 demographic, heavy on action and adventure, which lends itself to the more vivid experience of image and sound in an IMAX room.
WindsorOntarioNews.com