---
Higher power rates good for us (con't)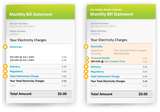 Environmentalists also reject the "myth" that new green energy is largely responsible for the hike in consumers' bills, when in fact the higher costs - some 20 per cent over the last seven months alone – is related to factors like renewing the province's aged power grid by upgrading transmission lines.
"Green energy has hardly even come online at all," she said.
"Wind and solar is something like under one per cent of our electricity grid."
Bischoff also said consumer bills are reflecting a gradual shift to have ratepayers cover more costs as opposed to taxpayers generally, though these are often one and the same.
She said that when consumers see the costs on their statements this will force them to conserve.
"Government is starting to realize that they don't want to be subsidizing electricity to the tune that we have been for decades and so they're putting some of the truer costs on to our electricity bills."
Derek Coronado of Windsor's Citizens Environment Alliance says he "can understand the uproar" over skyrocketing rates especially in a recession-ravaged province and in combination with a new tax like the HST.
But he said the reason for increasing bills is because the government wants consumers to see what power costs.
Otherwise, "people aren't going to make much of an effort to conserve."
He said the same "full cost accounting" strategy is being used in pricing water bills, generating consumer complaints as well.
Coronado agreed government should be doing more to help power users, such as making the price gap bigger depending on the time of day when power is used.
But he said the simple reality is that as the province rebuilds its aged grid and finds new sources rates will inevitably climb.
"Any new supply coming online is going to be expensive, regardless of the source."
But with the government's recommitment to nuclear power, as announced yesterday by Energy Minister Brad Duguid, that cost alone is going to result in more expensive energy.
"The cost of nuclear is going to make green energy look like a pittance," he said.
Said Bischoff: "That's going to increase our bills substantially."
She added this will costs "tens of billions of dollars," money saved had the province committed to a fuller green energy "mix" such as importing 1800 megawatts of hydro from Quebec and conversion of numerous small scale natural gas furnaces in commercial buildings to produce both heat and energy.
The province appeared to move on this second strategy in yesterday's announcement.
"With simple conversion in their boilers we could provide electricity for those buildings as well which would lower the drain on the electrical system."
Bischoff also took issue with the oft-mentioned high subsidy rates for green energy producers who generate power at multiple costs per-kilowatt-hour compared to traditional energy sources.
She said nuclear plants have been heavily subsidized by taxpayers and come in an average of 2.5 times more in cost overruns which the taxpayer has to pick up in a "sweetheart deal."
Not so for green energy producers who have to pay for cost overruns out of their own pockets.
"So it appears that our electricity is cheap but it's much more expensive" because traditional energy costs have been "externalized" to the taxpayer, she said.
WindsorOntarioNews.com