Local hospital staff now wear "sharps" - proof vests (con't)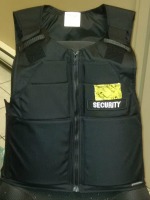 They're more like those worn by mall security guards, including in Windsor.
The vests are designed to prevent penetration of "sharps" like knives and needles.
The vests first showed up on personnel at the former Hotel-Dieu Grace Hospital (now WRH's downtown campus).
This followed an "isolated incident" where guards "were confronted by a man holding a knife," hospital security manager for fire, safety and security, Michael Broderick said.
"The guards called 911 and the man was properly detained by Windsor police, but it led administration to wonder if they were doing enough to protect the guards from situations such as this," he said.
The vests were seen "as a proactive approach to protect the guards after this near-miss scenario."
Come Oct 1 and the combined campuses under the WRH umbrella, the hospital's security contract was renewed and awarded to Toronto-based G4S Canada (G4S Security Solutions (Canada) Ltd.), with an office in Windsor.
"The vests were brought to the (former Metropolitan Hospital, now WRH's other, Metropolitan, campus) guards shortly after the contract was signed and now all of our guards (at both hospital campuses) wear this level of protection as part of their issued uniforms from G4S," Broderick said.
The Windsor hospitals are among others in the province whose security guards wear such vests.
If visitors think they might be a little over the top for what's generally considered a fairly benign environment, Broderick demurred.
"They are an effective way to protect the guards that do a very difficult and potentially dangerous job, and it is better for them to have them and not need them, then need them and wish that we had them."
According to Wikipedia, "Stab (or sharps) vests are different from bulletproof vests, most of which offer protection against firearms but afford little against stabbing with sharp-tipped objects such as knives."
Photo: Windsor Regional Hospital
WindsorOntarioNews.com