Ontario still using guardrails subject of safety probe (con't)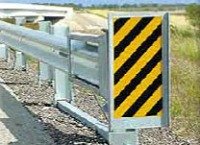 The product is actually the guardrail ends or "rail heads", located at the beginning of a line of highway guardrails, distinguished by a flat panel with yellow and black stripes.
If a vehicle slams into one of them they are supposed to dislodge and glide along with the vehicle and slow it down, at the same time pushing away subsequent guardrails from the vehicle.
But lawsuits have linked the guardrails to five deaths, more injuries and at least 14 accidents in the U. S.
The lawsuits allege that as a result of a 2005 design change the end rails might not fully absorb a vehicle's impact resulting in guardrails slicing through the vehicle.
The company had changed the dimension of the channel behind the rail head, narrowing it from five inches to four, which saved Trinity $2 per head.
Last month a jury found Trinity had defrauded the federal government by not notifying the U.S. Federal Highway Administration (FHWA) of the change.
The Highway Administration has demanded the guardrails be retested and 13 states are awaiting the result.
Virginia by contrast decided to pull out its installed Trinity guardrails after the company failed to meet an Oct. 31 state deadline to provide new crash test documentation.
Both the FHWA and Trinity deny the guardrails are unsafe.
The New York Times reported the FHWA defended the guardrails even after Trinity failed to report the design change, citing the fact it had reviewed crash tests from 2005 and 2010.
The Times also said that a FHWA senior engineer had written of concerns about the terminal.
The terminals' product name is ET-Plus.
Ontario's MTO, in response to a WON.com query, said the ministry "is aware" of safety concerns, has "thoroughly reviewed the recent developments with the Trinity product and is actively monitoring the issue in the US."
But, it said that, "at this time, we are not aware of any safety performance issues with the Trinity Highway Products steel beam guide rail energy absorbing terminals installed on provincial highways in Ontario."
The MTO says that once results of the new FHWA testing are known "we will take whatever action is required."|
Trinity is one of three companies approved by MTO to supply guardrails.
Said the ministry: "On MTO contracts where steel beam energy absorbing terminals are specified, it is acceptable for our contractors to supply and install the ET-Plus Terminal manufactured by Trinity Highway Products, the Sequential Kinking Terminal (SKT) manufactured by Road Systems Inc., or the X-Lite Tangent Terminal manufactured by Barrier Systems Inc."
WindsorOntarioNews.com