---
Desolate corridor greets tourists (con't)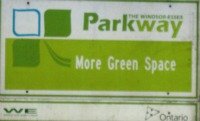 Gone, boarded up or abandoned, are familiar landmarks like motels, a strip plaza, and residential homes.
And, as the city makes an effort to make its other gateways more attractive – such as planting trees and landscaping along Dougall Ave. – the Huron Church–Talbot Rd. corridor is dismal-looking.
Obviously the corridor looks that way as crews prepare for major construction work, beginning this August, to build the $1.4 billion Windsor-Essex Parkway connecting Hwy. 401 to a new bridge to Detroit.
But there is barely any signage about that project and therefore explanations to motorists why the corridor looks as it does.
The Ministry of Transportation did put up some signs (see picture) earlier this year but they were small and rather puzzling as to the information conveyed.
"The Windsor-Essex Parkway, More Green Space" are the only words on them.
Two city councillors have questioned the lack of proper signs along the thoroughfare.
Councillor Drew Dilkens raised the issue at city council.
"They have installed several signs along the route but I'm not sure that they are clear enough to the passing visitor," he said.
"I would hope, from a tourist point of view, that they install more descriptive signs along the route so that people don't drive past Windsor thinking the place is dumpy looking."
Councillor Percy Hatfield, who sits on the interim board of Tourism Windsor Essex Pelee Island, also raised the matter at council but was told it was under provincial jurisdiction.
Hatfield said the ugly looking strip gives Windsor a negative image and reinforces the stereotype of the city being ravaged by the recession – "you get people coming through saying, 'What the hell is going on here, I heard the auto industry is in trouble...' "
He said appropriate signage is needed to inform the public about what is going on.
"We need signage up somewhere saying, 'Folks, there's a new highway coming through here and improvements are going to be made so that's why these houses are boarded up.' "
Hatfield said several signs should be put up about "the magnitude of the project, (that) it's going to be cross border route, it's going to be a new border crossing, construction started already and that's why the houses are boarded up, so, you know, bear with us."
Elly Johnson, acting CEO of Tourism Windsor Essex Pelee Island, said she checked with staff at her agency's tourist information centre on Huron Church Rd., and there have "been no complaints regarding construction in our region from tourists."
The centre is located on that part of Huron Church Rd. unaffected by the demolitions and tourists arriving from the U.S. stop there before driving through the demolished landscape so they wouldn't have seen it.
Johnson decline to give her personal opinion on the state of the artery.
"I'd prefer not to comment on it," she said.
Meanwhile Christine Melnyk , director of hotel operations for the Sunray Group, which operates the Comfort Inn and Suites – a hotel located on the same stretch of Huron Church Rd. as the tourist centre - thought there should be better signage so that travellers know exactly what is taking place.
"I think personally signage is probably a little weak," she said of the Parkway signs she has seen.
"Instead I think it would be nice if there was somehow some huge positive signage that would indicate, you know, 'Stay tuned for a great new border access highway, the third crossing to North America's busiest border,'... something to sort of spin it in a positive light."
Requests for comment from the transportation ministry were not returned.
WindsorOntarioNews.com