---
Bridge rips out duty free gas pumps (con't)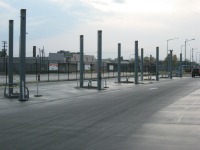 But several pumps on the far side of the building were still operating and motorists were lined up sometimes three or four vehicles deep waiting to pump gas.
WindsorOntarioNews.com has been seeking comment from bridge management.
But the company had been ordered by a U.S. court to make significant changes to its site to comply with its share of commitments to complete the $230 million Gateway project, a series of new ramps connecting the bridge to Detroit's freeway system.
The action comes after the Michigan Department of Transportation (MDOT) last week requested a judge to put the property into receivership, so that the work can be completed.
This means removing or downsizing the gas pumps and duty free store to complete the project.
A Wayne County court is expected to rule this week on whether the bridge company is in contempt of an earlier ruling in February of last year.
This past January the same judge, Prentis Edwards, ordered bridge president Dan Stamper to jail for several hours for failing to comply.
Bridge management has insisted it is making the changes but also has had to deal with constant revisions from MDOT.
MDOT says the bridge should never have built the fuel stations and store in an area where Gateway ramps were to have been constructed.
As a result motorists circumnavigate a convoluted access road from freeways to the bridge, and truck traffic is diverted on to surface streets.
The bridge's web site still advertises 32 "new pumps" as well as 14 self-service diesel pumps for trucks.
The pumps are believed to have been extremely lucrative for the bridge company because it doesn't have to pay federal and state taxes on the fuel since it is duty free.
It's estimated the company has been making as much as 60 cents a gallon on the fuel, a figure bridge management disputes.
Meanwhile a critic of the bridge fuel sales says he's happy that at last some of the pumps have been removed.
Bill Vollenweider of the Detroiter Truck Stop in Woodhaven, Mi., which also sells mainly truck fuel, said the bridge should not have been allowed to sell duty free gas in the first place.
"It's not a question of fairness it's a question of what's legal and not legal and I don't believe you can sell anything duty free in the United States and consume it in the United States," he said.
"So if you're buying gas, as soon as you put the gas in there you start consuming it, and it shouldn't have been allowed but it was."
Vollenweider says he also believes the unfair pricing put some local gas stations near the bridge out of business.
"You know there are a number of gas stations down there that have closed," he said. "And I think in large part it's because of that."
WindsorOntarioNews.com